Here are a few of my favourite home made recipes for personal care.
I prefer to make my own things as it is cheaper and I have very sensitive skin so I'm allergic to most store bought personal care things. Hope you try some or it inspires you to make your own.
I'ts great to save money and know that your doing good by the environment and also you'r not putting a tonne of unnecessary chemicals on you every day!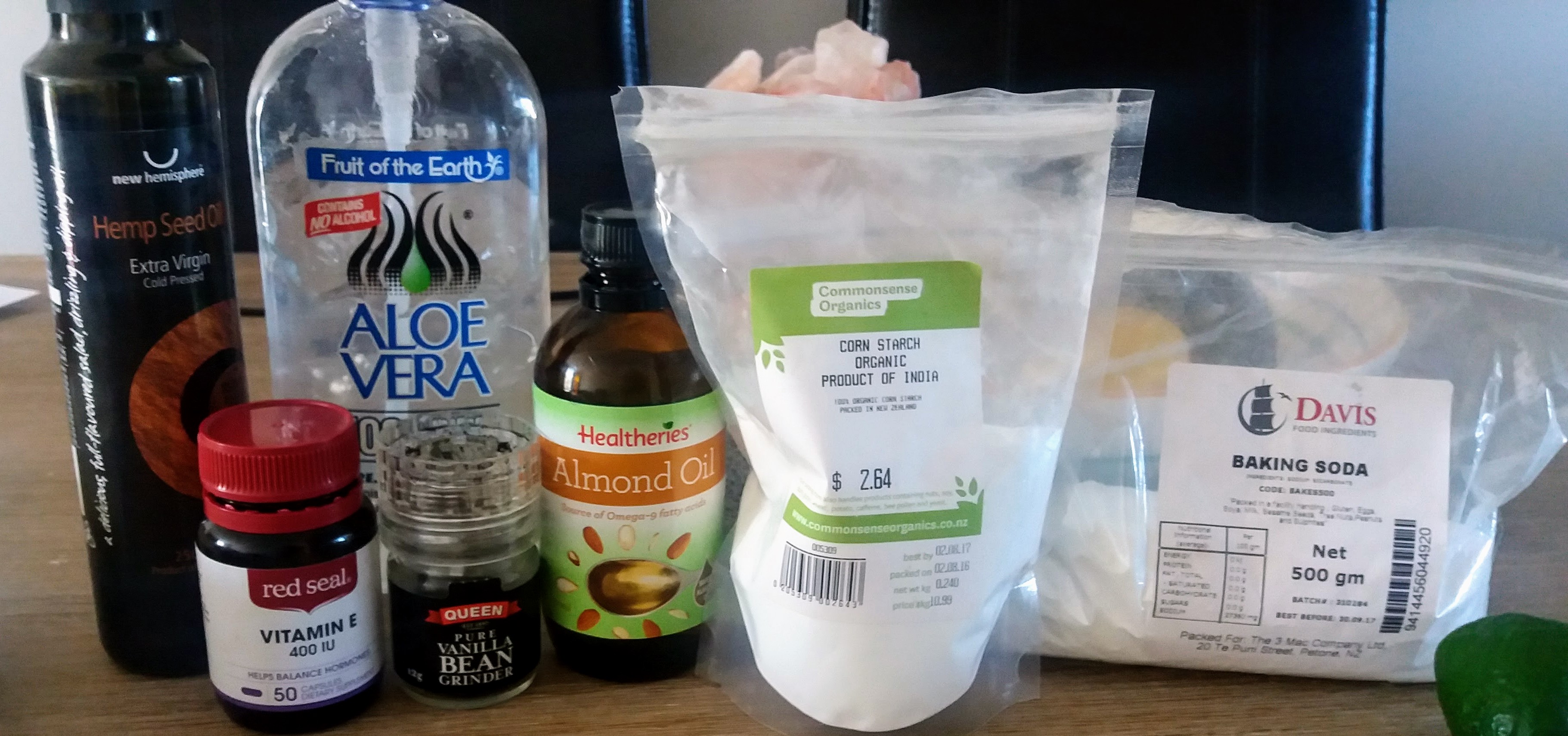 Dry Shampoo
So this is the easiest to make, it is basically just cornflour and coco powder (for the brown colour) but if you have fair hair you can just go ahead and use corn flour.
This works amazing and is probably items you have in your pantry right now. I store mine in a little spice shaker jar and use on second day hair. It will save you a tonne as to buy dry shampoo in store is not cheap and it works exactly the same but you are not filling your hair full of chemicals.
Conditioner
So this is a a deep hydration conditioner I make and it works really well for my hair.
I use 1 cup of almond milk, 2 cups of homemade coconut butter (basically you just blend up desiccated coconut shreds in your blender and do that around 3 times and it forms this beautiful coconut butter, vitamin E oil (3 capsules this works as a preservative) and 4 teaspoons of almond oil along with some fejoa juice that I squeeze from the left over skins. I mix it all up and put it in a container. I need to get prettier containers but for now these plastic ones do the job. This is usually enough to last me nearly a month. I mainly apply it to the tips of my hair and I only use a tiny bit for my scalp.
Make Up Remover
This is another easy one and you have many choices, use either almond oil or hemp seed oil which is what I use or olive oil.
works much better than any store bought makeup remover and nourishes your skin at the same time instead of stripping it of all it's oils.
Face and Body Exfoliate Cream
This a really good exfoliate cream especially for people with sensitive skin, It's also best to do this one in the shower.
For this I use, 3 table spoons of home made coconut butter, One teaspoon of apple cider vinegar. 4 teaspoons of hemp seed oil
vitamin e oil (3 capsules) 3 teaspoons of almond oil and half a cup of 100% aloe vera gel 4 tablespoons of almond milk. Mix it all up and store in a container.
Face Cream
1 table spoon of almond milk, 2 table spoons of coconut milk, 3 tablespoons of cornstarch (to help thicken it) 2 table spoons of Aloe Vera gel, 2 table spoons of hemp seed oil, vanilla beans or vanilla essence for the smell, 1 teaspoon of apple cider vinegar.
I still haven't made a shampoo that is good for my hair so I just use a store bought one.
I love making my own personal care products, its really fun and I love knowing exactly what is in my products. I intend on trialling some more recipes, so there will be more of these D.I.Y blogs to come.
Love Nicole